Press

and

Sheet metal

In

Cebu
NITTO METAL INDUSTRY CEBU INC.
Nitto challenges "MONOZUKURI" which creates our futures.
Company Name

NITTO METAL INDUSTRY CEBU INC.

Business Activity

Developing and manufacturing press sheet, metal and plastic parts

Address

Pahiyas Drive, MEZ-Ⅱ‐SEZ, Basak,


Lapu-Lapu City, Cebu, Philippines, 6015

Established

October 7, 2013

Date PEZA approved

November 29, 2013

Capital

35 million PHP "Nitto Ltd. 100% owned"

Factory building area

2,520㎡

Number of employees

14 in total (as of June 2015) 2 Japanese and 12 local staff.
Why in the
Philippines

, Why in

Cebu

Island?
We are aiming towards the center of Asia.
We are positively trying globalization of our business and production optimization mainly in Japan and China.
We have established the production base in Cebu Island, Philippines because we have focused on the unification of Asia in the future and on the best place that can provide customers with products".
Cebu City is blessed with rich nature, good workers and culture.
Recently it has been focused as a city for English education for people from other Asian countries.
We are making products to give customers relief that products made in Cebu are of the same quality as those made in Japan
We endeavor to make products to establish our future in Cebu.
In Cebu, we will continue to endeavor for " MONOZUKURI" which creates our future.
I appreciate your continued support and encouragement.
Image of Cebu, Philippines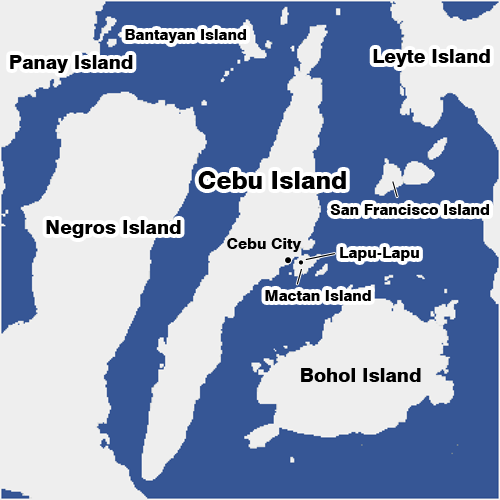 Product
Since establishment, we have been responding to a wide variety of customer needs with a comprehensive production system from design to manufacturing and up to assembly.
We have been working in a new field called plastic injection molding as a third area of business in addition to press machining and sheet processing.
Facility
The unique press processing technology of NITTO, "manufacturing" technology is effected and streamlined.
Since its inception, NITTO has developed in flexibility with the ability to fulfill customers demands in design, manufacturing and assembly.
As a comprehensive press goods supply company, Nitto has received a high evaluation from the market.
Machinery facility
Progressive Press 80t Qty 1
Single presses 80t Qty 2
Single press 150t Qty 1
Coil feeder width 400 Qty 1
Plane polishing machine Qty 1
Shearing Qty 1
High spins Qty 4
Drilling machine Qty 1
Progressive press 80t : Qty 1

(made by Washino engineering)

Single presses 80t : Qty 2

(made by Washino engineering)

Single press 150t : Qty 1

(Made by Washino engineering)

Coil feeder width 400 : Qty 1

(Made by Oriimekku)

Surface grinder : Qty 1

(Made by PROTH Industries (Taiwan) Ltd.)

Shearing : Qty 1

(Made by Aizawa Ironworks)

High spins : Qty 4

(Made by Brother Industries)

Drilling machine : Qty 1
Plating
We can offer various plating at a low cost because of the cooperation with local plating companies in Cebu
Local contribution
The Nitto Group promotes the following initiatives as a regional contribution in Cebu City.
We,
receive and train trainees and technical interns
have installed flush toilets in Elementary Schools in cooperation with Cebu Rotary Club
established the scholarship foundation for junior high school students in Cebu in cooperation with Kasugai Rotary Club, Aichi, Japan